Community Information
Paradise Found!
Nestled in the shadow of the breathtaking Bull Run Mountains, this Active Adult (55+ year and older) private gated community features resort-style amenities, including Regency Clubhouse with year-round activities and events, swimming, spa, tennis & fitnes, 18-hole Palmer golf course, shopping, dining, pharmacy & services at Market Square, Heathcote Healthcare Center within a 5-minute drive, kayaking, canoeing & fishing at Silver Lake, and private parks with 17 miles of recreational trails. Regency at Dominion Valley Country Club by Toll Brothers, is a private haven in one of the country's most vibrant areas – close to vineyards, mountain views, parks, shopping and health care!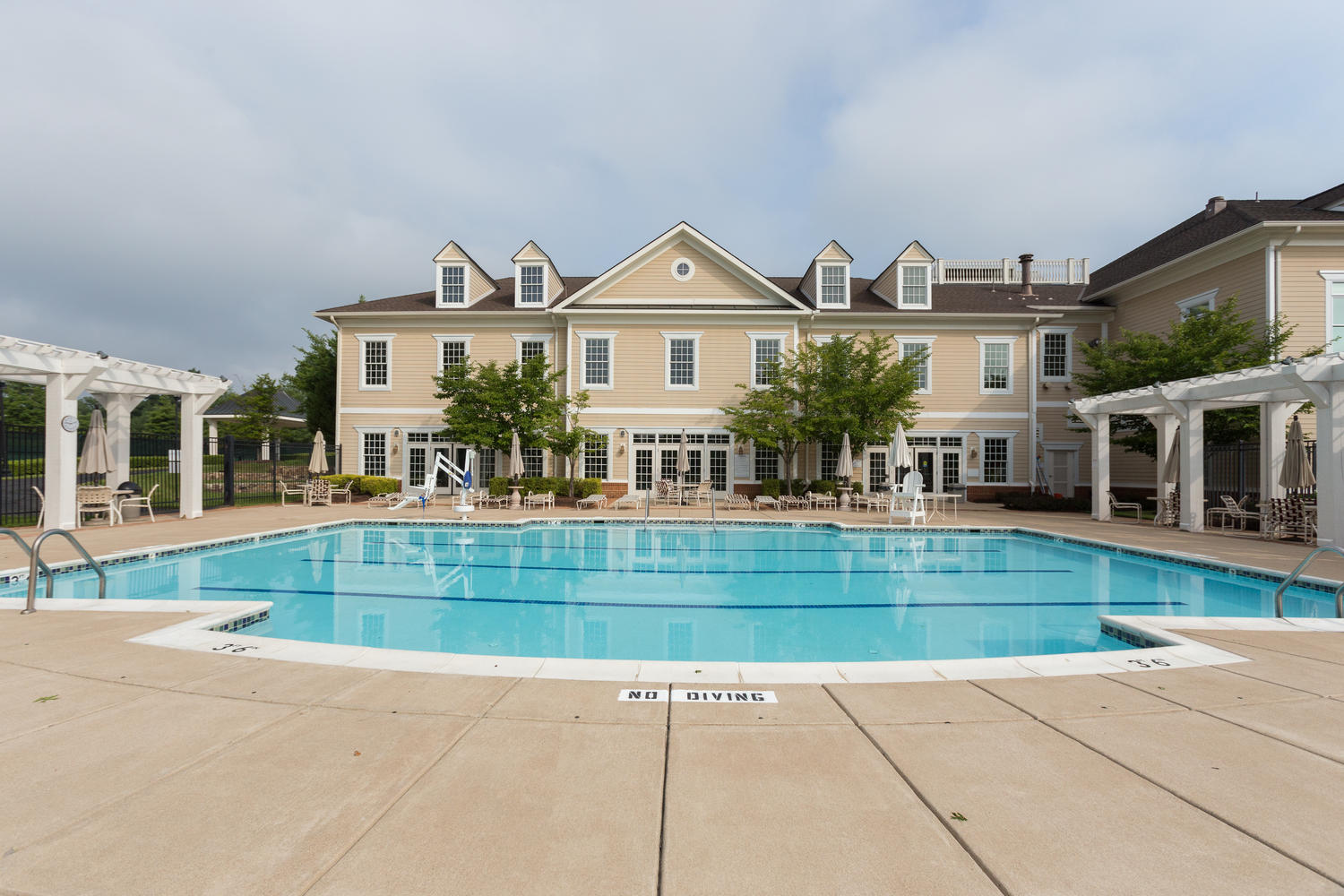 Year-Round Fitness and Fun.
Fitness is a family affair at our spectacular Country Club, featuring state-of-the-art exercise equipment, aerobics studio, tennis courts, and indoor pool, library, restaurant, banquet rooms and more. Our Activities Director coordinates diverse activities throughout the year.







Play Among the Birdies and the Eagles.
Wildlife habitats have been nurtured, wetlands have been carefully preserved, and farm ponds have been rehabilitated to enhance water quality. Homeowners have hundreds of acres of woods, lakes, and ponds to explore. Golfers can enjoy playing in a natural gallery that includes stately oaks and birds, deer, and other wildlife. Miles of hiking, biking trails weave throughout the community.





Golf Designed by the Master.
His name is synonymous with championship golf – and his Golf Course at Regency at Dominion Valley Country Club is no exception. The rolling terrain, enhanced by a strategic design that features multiple tees and generous landing areas, appeals to players of all abilities.

And, for a change of pace, walk across the street to Dominion Valley Country Club and play their 18-hole Arnold Palmer Signature Golf Course.*

Whether enjoying the scenic views from your home or playing a round with your friends, this Northern Virginia golf course will add a new dimension to your life with its beauty and challenging play.





Conveniently Located Near You.
Market Square at Dominion Valley Country Club has all the conveniences you need for everyday living, right here at home. Market Square is anchored by a Giant supermarket/pharmacy and includes a bank, office space, veterinarian, orthodontist, several restaurants, and many other retail services. Dominion Valley is also within a few minutes drive of other shopping venues – from quaint antique shops to world-class designer malls.

Located one mile from nearby Old Town Haymarket and within easy reach of:


SERVICE PROVIDERS

American Disposal
(703) 368-0500
(Trash Removal — included in HOA dues)
Toll Brothers
Main Office
(703) 753-6688
Customer Care
(571) 261-3665
Warranty Department
(703) 987-7518
(After Hours)

UTILITY COMPANIES:

NOVEC Electric
(703) 335-0500
Washington Gas
(703) 750-1000
PW Water & Sewer
(703) 335-7900
Comcast
(855) 638-2855
(Internet & Cable – included in HOA dues)
Verizon
(800) 483-5300

(Telephone & Fios)

OTHER IMPORTANT NUMBERS:

Animal Control
(703) 792-6465
American Heart Association
(703) 914-3700
American Red Cross
(703) 368-4511
Building Development
(703) 792-6830
Health Department
(703) 792-6300
Interfaith Volunteer Caregivers
(703) 369-5063
Post Office
(800) 275-8777
The Salvation Army
(703) 221-2267
United Way
(703) 792-6400
Visitor Center
(703) 491-4045
Weather
(703) 260-0107

LOCAL GOVERNMENT:

Pr. Wm. County Supervisor:
Mr. Peter Candland
Gainesville District
(703) 792-6195
School Board
(703) 791-7200
School Board Rep:
Mrs. Alyson Satterwhite

EMERGENCY NUMBERS:




Fire & Rescue
(703) 792-6500
PW County Police
(703) 792-6500
Poison Center
(800) 222-1222
Child Abuse and Neglect :
(703) 792-4200

Click these links for home sale stats for Regency:
2018 Annual Regency Home Sale Stats
Regency @ Dominion Valley 2017 Annual Home Sale Stats
To view all of the homes for sale in Regency at Dominion Valley go to our Regency Facebook Page